Photo radar 'doesn't require anyone to sit in a car, watching traffic all the time,' says Chris Andrews
Ever since autumn last year, at least 450 #SlowDownVaughan signs have been picked up after the City of Vaughan launched a lawn-sign campaign to encourage the public to slow down while driving.
Last year, Vaughan also reduced its speed limits from 50 to 30 km/h on all public laneways after two separate car crashes resulted in the death of three children.
---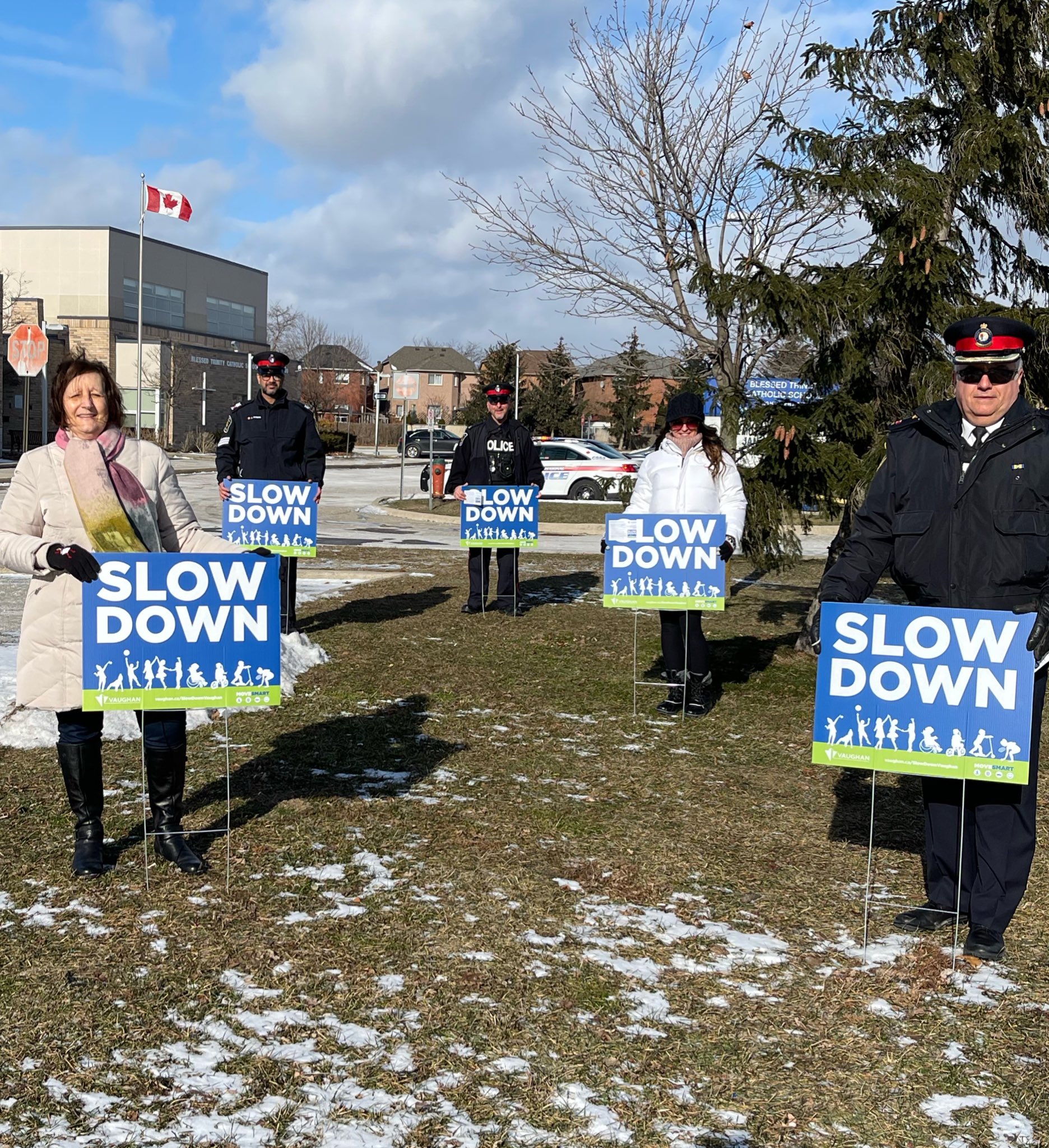 Coun. Marilyn Iafrate (left) poses with a #SLOWDOWN signs alongside York Regional Police officers. – Marilyn Iafrate/Twitter photo

---
Chris Andrews, who called Vaughan home for the past 30 years, however, still continues seeing speeds showing as high as 120 kilometres per hour on an electronic speed sign as drivers zoom by in a 40 km/h zone at Kipling Avenue, north of Highway 7.
This speeding phenomenon turned him into a more proactive citizen over the past 10 years, making him chase York Regional Police to enforce the 40 km/h speed limit.
When he was told that YRP doesn't have enough staff, Andrews considered investing in photo radars as a solution.
"It doesn't require anyone to sit in a car, watching traffic all the time. It does it all," Andrews said, speaking in favour of leveraging technology.
Enforcement statistics show that over the past five years, speeding is the top traffic violation in York region, representing more than 60 per cent of all traffic offenses.
YRP says York Region would be in charge of considering using automated speed enforcement (ASE) technology.
York Region says it's currently conducting a two-year, limited use ASE pilot that began in November 2020 and it's estimated to cost $500,000.
Ontario only began allowing municipalities to use ASE in 2020 after the province enacted Bill 65, the Safer School Zones Act, in 2017.
Since then, York Region has begun using 12 ASE cameras, prioritizing areas near schools. These cameras are rotated and shared among the region's nine municipalities.
Vaughan also said this program is set to determine the capacity of provincial courts to process the infractions, as well as a trial for the technology being used.
"Vaughan was first municipality in York Region to receive speed enforcement cameras, installed on Rutherford Road in November 2020 as part of this pilot program," the city said.
Currently, there is a one speed camera installed in Vaughan, which is part of Vaughan's MoveSmart Strategy.
The strategy includes an ASE plan, which is currently being developed alongside York Region, other municipalities, and the Ontario Traffic Council.
"The region will be sharing its data and experience in support of building an ASE program at the municipal level," the city said. "The option to use the Administrative Monetary Penalty System (AMPS) for ASE is also under investigation."
Lorraine Sommerfeld, an auto columnist who contributes to Torstar publications, recently wrote an article calling for more speed cameras in Ontario, marking a change in narrative from her earlier position where she dubbed these road gadgets as a money grab.
However, Sommerfeld doesn't believe speed cameras are the ultimate answer to speeding since drivers will revert to speeding once these cameras are rotated to another location. In addition, fines issued through ASE don't include demerit points, so drivers who have money, will just pay their way up for their fast commute, she added.
"Unless you have a buy-in from everyone that uses the roads, it's not going to work, and that means drivers have to slow down," Sommerfeld said.
She also said speed cameras are expensive and they're maintained by private companies that usually charge a fee to the cities.
Sommerfeld cited examples of Holland, Denmark, and Sweden, where these countries implemented the photo radars far earlier than Ontario.
"They also design their roads better," she said. "Like in Holland, cycling routes are absolutely separated."
York Region says it has changed road design or narrowed lanes in some areas to change driver behaviour to slow down.
Sommerfeld, however, says "cars win" in most Canadian cities, leaving pedestrians and cyclists vulnerable.
---
STORY BEHIND STORY: Chris Andrews sent an email to reporter Dina Al-Shibeeb after reading one of her stories on speeding. Andrews expressed how he wanted the city and YRP to do more. Al-Shibeeb contacted Vaughan, York Region and Lorraine Sommerfeld to understand what's going on.