1 min ago
Ukraine's foreign minister says "world must act immediately"
Ukraine's Foreign Minister Dmytro Kuleba urged the world to "act immediately" in response to Russia's military operation in the country.
In a tweet on Thursday morning, Kuleba wrote:
"The world must act immediately. Future of Europe & the world is at stake. To do list: 
1. Devastating sanctions on Russia NOW, including SWIFT
2. Fully isolate Russia by all means, in all formats 
3. Weapons, equipment for Ukraine 
4. Financial assistance 
5. Humanitarian assistance"
2 min ago
Air raid sirens are going off in Ukraine's capital Kyiv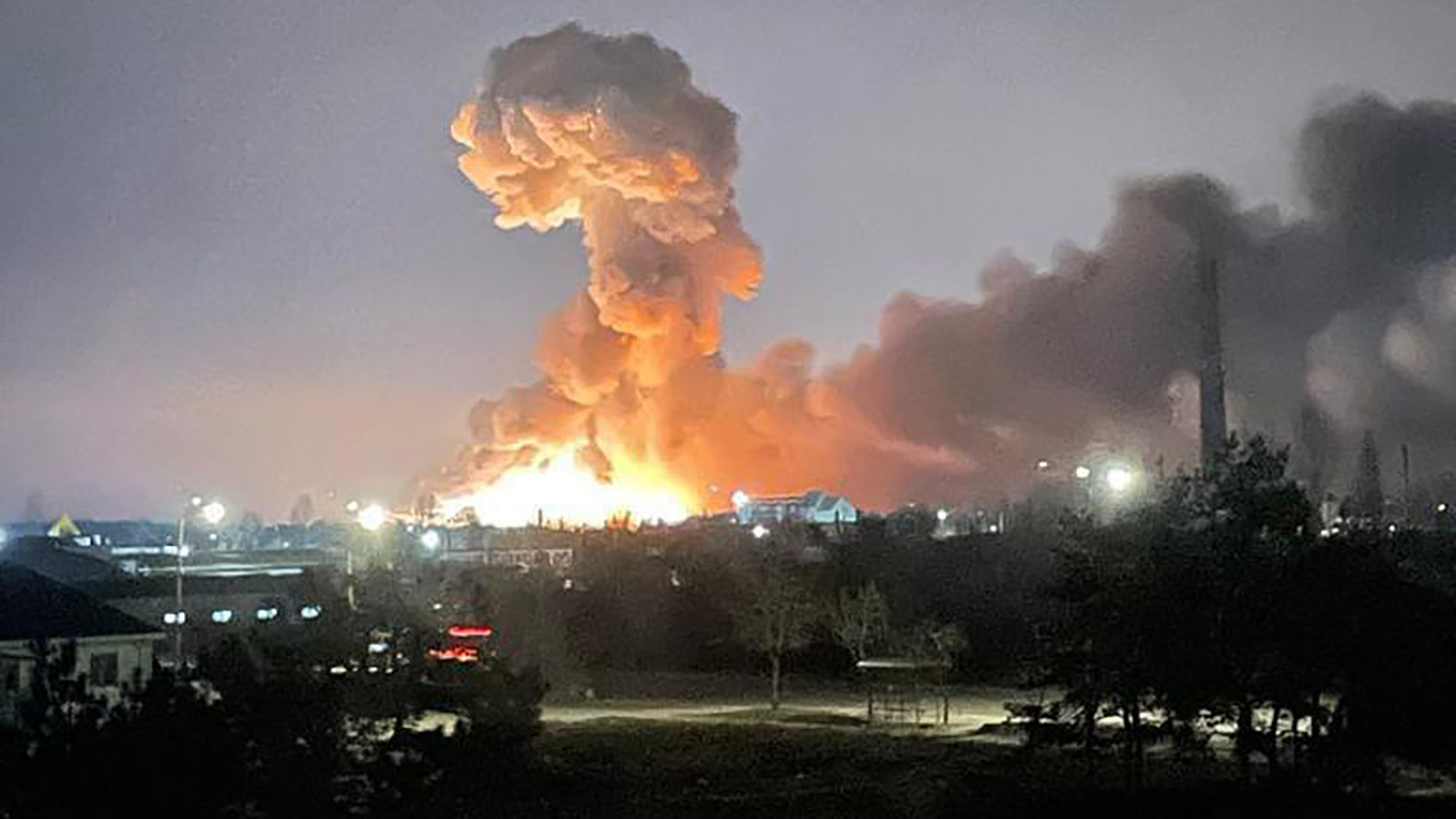 A photo provided by the Ukrainian President's office appears to show an explosion in the country's capital, Kyiv, early Thursday morning.
CNN teams in Kyiv have been hearing explosions near the capital since Russian President Vladimir Putin announced his military operation in Ukraine.
CNN also heard air sirens sounding for several minutes in Kyiv around 7 a.m. local time (12 a.m. ET), which could be heard across the city. CNN teams did not see or hear incoming fire.
4 min ago
Ukrainian mayor urges citizens not to "panic" and says "everything is in order"
From CNN's Tim Lister in Kyiv
The mayor of the central Ukrainian city of Dnipro on Thursday reassured citizens, telling them not to "panic" following Russian President Vladimir Putin's announcement of a military operation in eastern Ukraine.
In a post on his official Facebook page, Dnipro Mayor Borys Fylatov said the city has "everything in order."
"Countrymen, please don't panic. Soon, when the exact level of threat is clear for Dnipro — I will keep you updated. Believe me, no one could believe in such a level of cynicism, but everything is in order. Let's keep in touch. God and Truth is behind us." Fylatov posted.
Some context: A Dnipro resident earlier told CNN they had heard "a few explosions" in the city.
6 min ago
Russian military claims it is not targeting Ukrainian cities
From CNN's Nathan Hodge 
The Russian military released a statement Thursday claiming it was not targeting Ukrainian cities, as CNN teams on the ground report explosions around the country. 
"The Russian Armed Forces are not launching any missile or artillery strikes on the cities of Ukraine. High-precision weapons destroy military infrastructure: military airfields, aviation, air defense facilities of the Armed Forces of Ukraine," the statement read. "The civilian population is not at risk." 
CNN teams on the ground have reported explosions around Ukraine and outside of the Donbas region, where Putin announced a "special military operation" in the early hours of Thursday.
8 min ago
People are going to work in Ukraine's Kramatorsk following reports of explosions in area, local official says
Though there have been several explosions reported around the Ukrainian city of Kramatorsk, it is currently calm and people are going to work as the sun rises, a local official said. 
There were two explosions in Kramatorsk about 5 a.m. local time (10 p.m. ET) and a few more just minutes ago, according to Tatanya Ignachenko, the press secretary of the civil-military administration Donetsk Oblast.
"There is no plan to evacuate people at this moment. It seems calm in Kramatorsk. People are going to the factory for their 6 a.m. shift," she said. 
15 min ago
Zelensky introduces martial law in Ukraine, urges calm
Ukrainian President Volodymyr Zelensky has introduced martial law, and urged people to remain calm in a brief video address on Thursday morning.
Here's Zelensky's full statement:
"Dear Ukrainian citizens, this morning President Putin announced a special military operation in Donbas. Russia conducted strikes on our military infrastructure and our border guards. There were blasts heard in many cities of Ukraine. We're introducing martial law on the whole territory of our country. A minute ago I had a conversation with President Biden. The US have already started uniting international support. Today each of you should keep calm. Stay at home if you can. We are working. The army is working. The whole sector of defense and security is working."
"No panic. We are strong. We are ready for everything. We will win over everybody because we are Ukraine."
12 min ago
India's ambassador to UN: Ukraine situation is "in danger of spiraling into a major crisis"
From CNN's Manveena Suri in New Delhi
India's Ambassador to the United Nations T. S. Tirumurti on Wednesday night said the situation in Ukraine is "in danger of spiraling into a major crisis."
"The calls of the international community to give time to the recent initiatives undertaken by parties to defuse tensions were not heeded to," Tirumurti said at an emergency UN Security Council meeting.
"We express our deep concern over the developments, which, if not handled carefully, may well undermine the peace and security of the region," he noted, calling for "immediate de-escalation."
"We believe the solution lies in sustained diplomatic dialogue between the concerned parties. In the meantime, we strongly emphasize the vital need for all sides to maintain international peace and security by exercising the utmost restraint."
Tirumurti called on all parties concerned in the Ukraine-Russia crisis to refrain "from any further action that could contribute to a worsening of the situation.
"India has consistently advocated at the United Nations, the need for peaceful settlement of disputes in accordance with international law and with agreements entered into by parties concerned," he said.
19 min ago
"Full scale" of sanctions on Russia to be deployed by US and allies on Thursday, US official says
From CNN's Phil Mattingly
The United States and its allies are planning on Thursday to trigger the "full scale" of sanctions against Russia that have been discussed over the past several weeks, according to a senior Biden administration official.
While the official declined to lay out specifics, the US has planned to target Russia's two largest banks, as well as other financial firms, and has prepared to deploy export controls to cut off Russian access to critical Western technology for entire Russian economic sectors.
Additional members of Russian President Vladimir Putin's inner circle and their families will also be targeted.
Discussions are ongoing late this evening between US and European officials about the final shape of the package, the official said. It will also be a topic of discussion at the virtual G7 meeting scheduled for Thursday morning, the official said.
US officials also remain on high alert for any cyber activity targeting key domestic targets including banks and critical infrastructure, the official said.
26 min ago
China's ambassador to the UN calls all parties to "stay cool headed"
From CNN's Beijing Bureau
China's ambassador to the United Nations, Zhang Jun, called on all parties involved in the Ukraine-Russia crisis to "stay cool headed and rational."
"It is especially important at the moment to avoid fueling tensions," Zhang said at an emergency meeting of the UN Security Council on Wednesday night.
"All parties concerned should exercise restraint and avoid the further escalation of tensions," he said, adding that China believes the "door to a peaceful solution to the Ukraine issue is not fully shut."
"China will continue to promote peace talks in its own ways and welcomes and encourages all efforts aimed at a diplomatic solution," Zhang said.